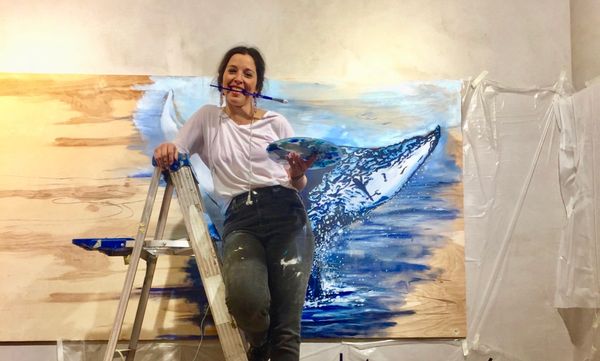 Bio
My need for self-expression, the challenge to make something out of nothing, or just speaking with visuals has been a part of me for as long as I can remember. I think my very first foray into painting was at the age of two when I stole my mother's lipstick and painted myself and her car with it. Which prompted her to give me more chances for art that spared her lipstick (and car!). I grew up in southern Louisiana in the culturally rich city of Lafayette. The drive for self-expression through food, music, dance, and art flows through most of the natives of Louisiana. My grandmother was an amazing artist and I know the skills I have come from her. I was always drawing and eventually started painting in high school. I even sold my first painting to a fellow classmate. That passion drew me to the romantically beautiful town of Savannah, GA where I received my BFA in fine art painting at Savannah College of Art and Design.
Post college, I moved to New York. While there, I became a member of the Bergdorf Goodman visual team, as well as being a commissioned artist nationally and internationally. My time at Bergdorf Goodman definitely started building my artist confidence to break out of the "I'm a fine art oil painter" mold and begin exploring other means of artistic creation. As well as what it means to be an artist. I then took a deeper dive into display artistry and window design when I moved to Chicago and became a display coordinator for Anthropologie. My journey so far has been one of learning, exploring, conquering and eye opening.
Painting has always been the catalyst for my life as an artist. I am now returning to that first love and diving deeper into paint as a medium again. I am enjoying getting to know the Chicago art world and exploring the vibrant artist community that exists here. In this next year I am focusing on producing a new series of works and even adding a few more murals. I'm looking forward to the possibilities of my new life in Chicago and what we can offer each other. My career has definitely been a journey that is nowhere near the finish line, and has been a fun along the way!