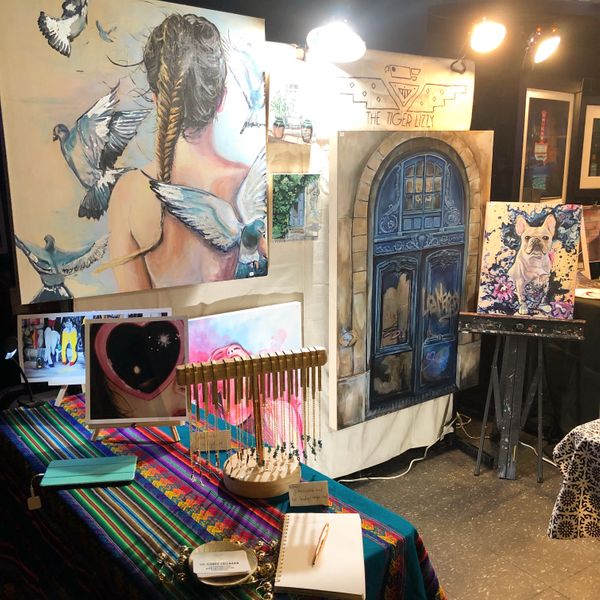 Artist Statement + Bio + Contact
I am attracted to strong visual imagery; imaginative uses of color, and powerful, expressive brushstrokes. In my own pieces, this translates into vibrant images that depict a world where the viewer desires to be a part of it. My work is fun, rich in characters, and draws you in beyond the image. I am particularly interested in how the natural human posture can express ones inner self, as well as merging the figure and space to create a crafted reality more beautiful than its source of inspiration. My paintings allow the viewer the question their presence in the organic sensorial realm I have created for them. I am constantly trying to combine my interest in a way that adds flavor and dimension to my point of view.
I am looking forward to stepping away from painting the figure, and moving into the new phase in my artistic journey. I recently returned from a trip to France and was so inspired by the beautiful simplicity of the doors and entrances all over the country. It's another form of a first impression and I was excited by the underlying stories. I plan on painting a series with that as my main focus. It's fueled by that voyeuristic curiosity people have to look in windows and catch a glance of someone else's life. As the saying goes, you never know what happens behind closed doors. I'm excited to discover what lies within those doors.
Bio
My need for self-expression, the challenge to make something out of nothing, or just speaking with visuals has been a part of me for as long as I can remember. I think my very first foray into painting was at the age of two when I stole my mother's lipstick and painted myself and her car with it. Which prompted her to give me more chances for art that spared her lipstick (and car!). I grew up in southern Louisiana in the culturally rich city of Lafayette. The drive for self-expression through food, music, dance, and art flows through most of the natives of Louisiana. My grandmother was an amazing artist and I know the skills I have come from her. I was always drawing and eventually started painting in high school. I even sold my first painting to a fellow classmate. That passion drew me to the romantically beautiful town of Savannah, GA where I received my BFA in fine art painting at Savannah College of Art and Design.
Post college, I moved to New York. While there, I became a member of the Bergdorf Goodman visual team, as well as being a commissioned artist nationally and internationally. My time at Bergdorf Goodman definitely started building my artist confidence to break out of the "I'm a fine art oil painter" mold and begin exploring other means of artistic creation. As well as what it means to be an artist. I then took a deeper dive into display artistry and window design when I moved to Chicago and became a display coordinator for Anthropologie. My journey so far has been one of learning, exploring, conquering and eye opening.
Painting has always been the catalyst for my life as an artist. I am now returning to that first love and diving deeper into paint as a medium again. I am enjoying getting to know the Chicago art world and exploring the vibrant artist community that exists here. In this next year I am focusing on producing a new series of works and even adding a few more murals. I'm looking forward to the possibilities of my new life in Chicago and what we can offer each other. My career has definitely been a journey that is nowhere near the finish line, and has been a fun along the way!
Contact:
lizcflo@gmail.com
@thetigerlizzy
Wicker Park, Chicago